Foamed sheets from Polypropylene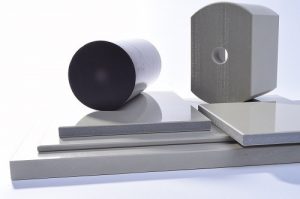 Polypropylene foamed (Shorten : PPfoam): Foamed Polypropylene sheets with micro air bubbles in a homogeneously material and a smooth and blemish free surface is a new type of plastic sheets. In contrast to two homogeneously sheets with foamed material between them this material offers micro air bubbles which will lead to weight reduction of the sheet. Compared to typical PVC foamed sheets this won't lead to a reduction of the technical values if the surface gets damaged!
Thickness Polypropylene sheets – technical plastics
With the reduced weight of about 0,8 g / cm³ in opposition to the normal 0,92 g / cm³ you can save up 16 % of material and weight! The material can be weld and is easily processed like homogeneously Polypropylene sheets.
Enquirys Polypropylene sheets – technical plastic
Standard colors of Polypropylene semis are nature and grey but special colors are possible if you get over an certain amount of 1000-2000kg. Polypropylene sheets offer a large variety for usage. Beside standard Polypropylene types like Homopolymer and Copolymer are some special types like Polypropylene low flammability, Polypropylene electrically conductive, Polypropylene anti static, Polypropylene UV resistant, Polypropylene fiber glass reinforced and many more
Colors
Dimension extruded sheets (Thickness 5 – 20 mm ) 
We would be pleased to cut your desired dimension out of our standards!
( Not all intermeditate sizes are available! Special dimensions and thicknesses are available after MOQ of about 5 tons )
If you have any requests don't hesitate contact us!