Semis and finished parts made of PP ( special types )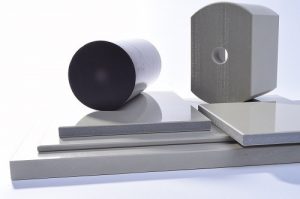 Polypropylene (Short : PP, PPH, PPC, PPCopo, PPs, PPel, PPast and many more) is a technical plastic that can be processed easy. It has a density of about 0,91g/cm³ which is the lowest of all technical plastics. The moisture absorption of standard PP is 0,0%. The E-value is at 1.400 N/mm² which is relativly low. The material is really good against lyes and acids and is easy to mill ( cut, milling, lathe, water jet cutting and welding ). It is the material of choice in tank construction for ventilation components and many more.
Thickness Polypropylene sheets – technical plastics
We offer pressed sheets from PP with thicknesses up to 280mm, cavity free and low tension. Also cuts and molded parts / technical plastic products ( milled and lathed parts ) from Polyethylene sheets or rods. Pressed sheets have in contrary to extruded sheets less tension, are better to machine but are a bit more expensive because manufacturing process.
There are many different kinds of Polypropylene like e.g. the most common seperation between PPH (Polypropylene Homopolymer) and PP Copo ( Polypropylene Copolymer) and their sub groups. The biggest difference is the resilience against cold. PPH is should only be used down to 0°C while PP Copo can be used down to -40°C in some cases! If the Copolymer part is getting bigger and the chemical chains get more optimized the bigger is the difference from PPH. Additionally there are some well known materials as well:
Polypropylene flame resistant

or PP FL, PPs

this material is resistant against flames for a special time and offers if used in e.g. houssebuilding people some more time to leave to house before the material burns down as well. This material is a typicial standard

Polypropylene antistatic or PP ast

Polypropylene antistatic

Polypropylene electrically conductive or PP el

Polypropylene electrically conductive

Polypropylene glas fiber reinforced

or PP GF

Polypropylene glass fiber reinforced

Polypropylene with wood fibers

or WPC

Polypropylene filled with wood fibers for reducing material needed, but also for changing technical features

Polypropylen after your wish

Please contact us with your requirements for the Polypropylene! With a minimum amount of 2.000 – 3.000 kg  we can look after special solution for your case!
Inquiry Polypropylene sheets –
Order quantity of Polypropylene semis are as pressed sheets also singleton but depending on minimum order quantitys of the raw materials we have to look at every case.