Shooting range lining – End wall – References
Customer opinions say more than our descriptions:
Hello Mr. Arens,
as you can surely remember, you delivered in April 2011 to the shooting club Tittmoning for 10 air rifle ranges the back wall – lining panels Star 69 in white-green.
We would like to thank you again for the smooth and uncomplicated handling of the order.
The plates were sanded by us before the assembly on the visible side with an orbital sander and very fine sandpaper something, so that the surface appears matt and no longer shiny.
We found the result to be optimal.
The shooting range is now up and running again, and is well received by the shooters. It is highly praised for its bright, friendly design. In particular, the light green (white-green) on the back wall is considered very pleasant.
So we are very satisfied with the redesign of our shooting range and can highly recommend your panels as wall cladding for other shooting clubs.
With best thanks for the pleasant cooperation I send a warm shooters greeting
Shooting club Tittmoning
84529 Tittmoning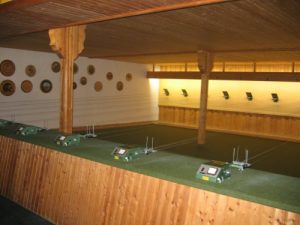 Shooting range before reconstruction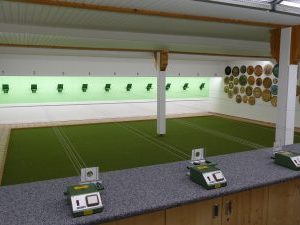 Shooting range with the STAR end wall
For our part, we would like to thank the Tittmoning shooting club and wish them every success ! (STAR Team)
Shooting range lining – installation example
The SG Kelheim-Affecking v.1922 shooting club has kindly sent us pictures of the conversion of the shooting range. In the following you find some of very many beautiful and expressive photos, in order to supply you a reference point for the own rebuilding.
SG Kelkheim-Affecking v.1922 has chosen a natural-colored end wall, but other colors are of course just as workable.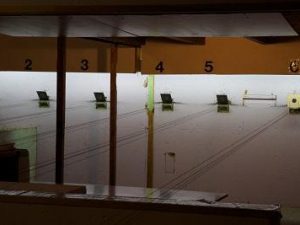 The shooting range of the SG Kelkheim-Affecking before the reconstruction. A usual shooting range with manual firing shots and a closing wall, which is already quite damaged by numerous projectiles.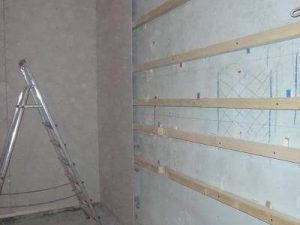 The old wall was dismantled, a new lathing framework was applied and the application of sheetrock began.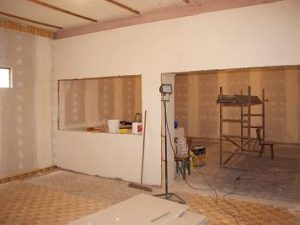 The new sheetrock base has been completed.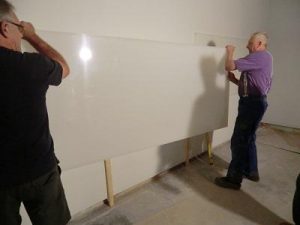 The plastic panels are brought to the wall …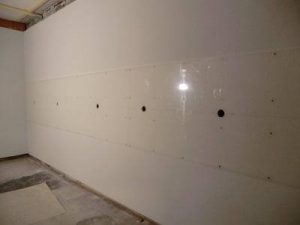 screwed in place, the openings for the electronics made with a circle cutter…
(we recommend our customers to sand the plates lightly by hand or by machine to minimize light reflections)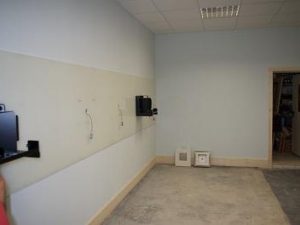 and the electronic measuring systems applied.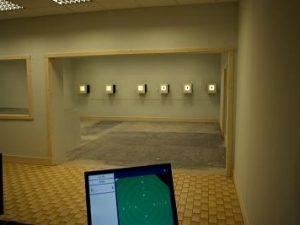 Finished is the renovated shooting range with an almost indestructible back wall.
The SG Kelheim-Affecking has also provided us with their expert opinion and notice, which we can also provide if required.