STAR high quality snow pusher made in Germany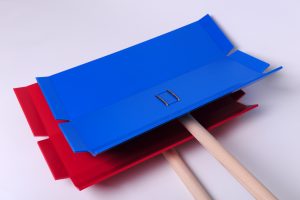 We would like to offer you an high quality alternative to cheap snow pushers and snow shovels. In long preparation and studying the market of snow pushers we found out the problems of the standard products. They mostly have – according to their weight and form – a propensity to be used as shovel and not a pusher. Our snow pushers on the other hand are designed to be pushers and yearslong testing and the reviews of our customers shows that we went the right way!
Our standard snow pusher consists out of an snow pusher shield in the dimension 640 x 430 mm which is made out of an nearly "undestroyable" plastic which is impact proof up to -40°C. Snow adheres only under very bad conditions (nearly never) , quieter than our competitors through the slide components of the material. Uneven ground don't affect our snow pusher. For shoveling snow the shield of our pusher ist formed like a shovel but it is not recommend because the weight of 2kg is way higher than normally.