PE Reg (Polyethylene Regenerate)

PE Reg / PE REG UHMW (polyethylene)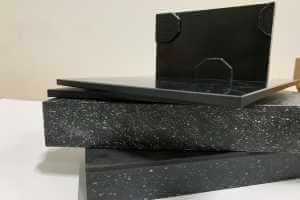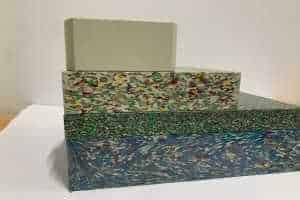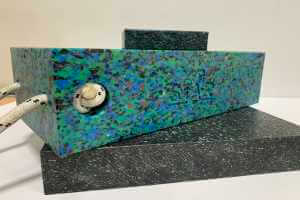 Semi-finished products such as sheets and finished parts made of polyethylene regrind
The material PE High-Density (Polyethylene of high density, short form: PE-HD,PE 100 in a family with PE HMW and PE-UHMW).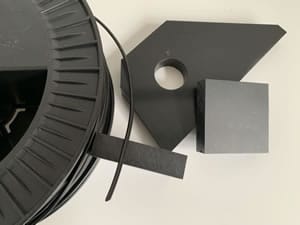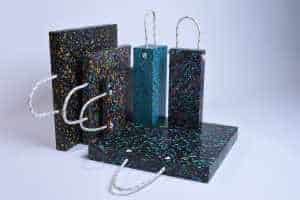 PE Regenerate: The material - technical properties
Polyethylene Regenerate (abbreviation: PE RG) is a very easy to process engineering plastic (thermoplastic), has like all PE types with approx. 0.95 g/cm³ the second lowest weight (comparison POM = 1.39, PA = 1.14, only polypropylene / PP is even lighter) of all engineering plastics and offers with this alone a very interesting price basis (better than PA, PVC, POM, PVDF etc.). The moisture absorption of polyethylene RG multicolored is 0.0% (thus better than PA), but due to its good lye and acid resistant properties, self-lubricating effect and easy plastic processing (cutting, milling, turning, water jet cutting, welding), the material is a very popular material for industrial products with lower demands on color (PE Regenerat multicolored) or the technical properties (PE UHMW Regenerat in black or green offer only slightly lower properties than PE UHMW virgin). We will be happy to advise you on which type of PE Regenerate is most suitable for you and how it is best used.

Strengths PE Regenerated Sheets
PE is easier to process into regenerated sheets than PA or POM. We use only our own remnants (cuttings and chipping residues) for the production, no purchased mixed types. We press from them various formats of polyethylene RG in colored or black with thicknesses up to 280 mm void-free and low-stress, justified by the production process, as well as blanks and molded parts / plastic parts (milled parts, turned parts) from polyethylene sheets. Pressed sheets, in contrast to extruded sheets, are less stressed and have a higher quality for machining due to less stress, but have a price disadvantage compared to extruded sheets due to the more complex production process. However, we also offer PE regrind extruded (mostly black) on request mostly in a minimum quantity of 1,000 – 3,000 kg. Extruded sheets have a higher tension, but can be used in thicknesses of 1 – 15 mm for example as root protection sheets. Extruded polyethylene RG sheets are also weldable. Products made of PE Regenerate usually have the best price-performance ratio due to the still high technical values and the low price. A great material for mechanical engineering or other applications.
Standard color PE Regenerated sheets - engineering plastic
Delivery quantities of these products made of PE are as pressed sheets also single pieces, depending on the choice of regenerate. PE RG extruded is usually a special production with min. 1000 kg minimum production quantity. Contact us for quotations on PE sheets, blanks or molded parts, we will be happy to advise you and make you an offer. Polyethylene RG can also be used for finished parts and we will be pleased to make you an offer for drawing parts. Learn more about our company and products, 1A STAR technische Kunststoffe GmbH on the following pages or contact us by fax, phone or e-mail, we will be glad to help you! We can also send you our brochures as PDF files.
Do you want more information about PE Reg (Polyethylen Regenerat)?
Please send us your questions in the form and we will get back to you.

Colors
Sizes extruded sheets ( material thickness 2 – 15 mm )
| | | |
| --- | --- | --- |
| 2000 x 1000 mm | 3000 x 2000 mm | 4000 x 2000 mm |
We will gladly cut your desired format from one of our standard formats!
( Not all intermediate sizes occupied! No standard. Production is possible from minimum quantities of 2-3 t )
Formats pressed plates ( material thickness 8 – 100 mm )
| | | |
| --- | --- | --- |
| 2000 x 1000 mm | 3000 x 2000 mm | 4000 x 2000 mm |
We will gladly cut your desired format from one of our standard formats!
If you have any questions, please contact us by phone or e-mail