PE EL-AST

PE electrically conductive / antistatic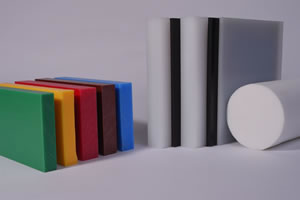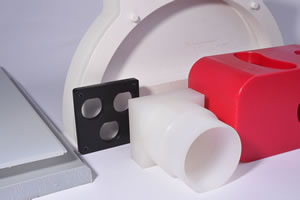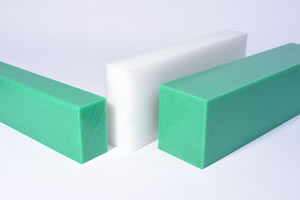 Semi-finished products such as sheets, rods and finished parts made of electrically conductive PE
Polyethylene in general (abbreviation: PE, PE HD, PE UHMW, PE HMW) is a technical thermoplastic that is very easy to process. Like all PE types, it has the second lowest weight of all technical plastics (PE EL / PEEL, however, is somewhat heavier due to its high carbon black content) and thus alone offers a very good price basis. The moisture absorption of standard PE is 0.0%, the modulus of elasticity is only 800 N/mm², but due to its high chemical resistance, self-lubricating effect and simple plastic processing (cutting, milling, turning, water jet cutting, welding – here rather PE-HD), the material is a very popular material for technical plastic parts in mechanical engineering (PE UHMW, PE-HMW), which are subject to wear and abrasion, as well as linings for bulk material containers. In its original version, PE is also a good electrical insulator. In many cases this property of polyethylene is exploited (we have a product PP V0 according to UL 94), in other applications this property is detrimental to the intended use and an antistatic or electrically conductive version of polyethylene is used. In the ATEX directive 2014/34/EU for explosion protection in mining and industry antistatic and electrically conductive materials are required, here PE-EL / PEEL can be used. If you have any inquiries / queries regarding ATEX, please use the contact form or simply call us, we offer this service free of charge.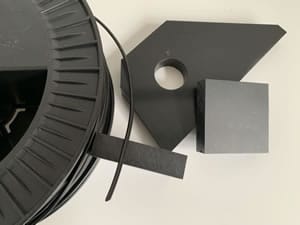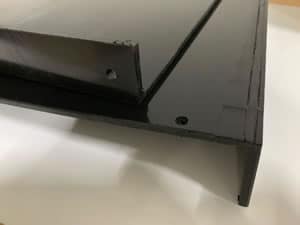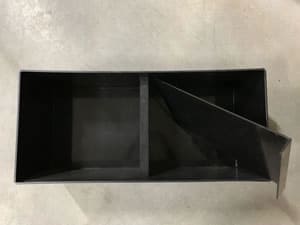 PE EL-AST: The material - technical properties
This electrically conductive (PE EL / PEEL) or antistatic (PE-AST) is usually achieved via introduced carbon black, which then stores water (and largely still retains the good properties of polyethylene). Conversely, this means that PE-EL (or PEEL) requires humidity to achieve the electrically conductive effect – this principle would not work in a desert). Thus the color is usually black. However, there is also a chemical variant via an additive, which then also enables a colored material. PE-EL (PEEL) has somewhat reduced mechanical properties and chemical resistance due to the high carbon black content. The material is still highly flammable. PE-EL (PEEL). In addition to PE-EL / PEEL, we also offer PS-EL, PP-EL, PVDF-EL or ABS-EL under the heading of electrically conductive plastics.

Places of application for our PE-EL
These PE EL sheets are preferably used in mining (explosion protection), mine construction or e.g. in the electrical industry as load carriers e.g. for components or products at risk of voltage.
Special types and modifications
In PE EL we offer extruded sheets (1-10 mm) and pressed sheets (8-120 mm) or blanks made of PE HD or PE-UHMW and on request also round rods (PE-HMW is also possible from certain minimum quantities). You will find a lot of further information about electrically conductive plastics, insulation materials, other technical products or our company, 1A STAR technische Kunststoffe GmbH on this page or contact us by e-mail, phone or fax. We will be pleased to send you further information, our respective brochure or data sheet also as PDF in German or English.
Do you want more information about PE EL-AST?
Please send us your questions in the form and we will get back to you.

Colors
Sizes extruded sheets ( material thickness 1 – 10 mm ) 
We will gladly cut your desired format from one of our standard formats!
( Not all intermediate sizes occupied! Special dimensions / thicknesses are possible from minimum quantities of 3 t )
Formats pressed plates ( material thickness 10 – 60 mm )
| | | |
| --- | --- | --- |
| 2000 x 1000 mm | 3000 x 2000 mm | 4000 x 2000 mm |
We will gladly cut your desired format from one of our standard formats!
If you have any questions, please contact us by phone or e-mail.